HELLO AND WELCOME!
Thank you for visiting my website, I love to share and connect with new people… so, let me tell you a little bit about myself: who I am and what I do.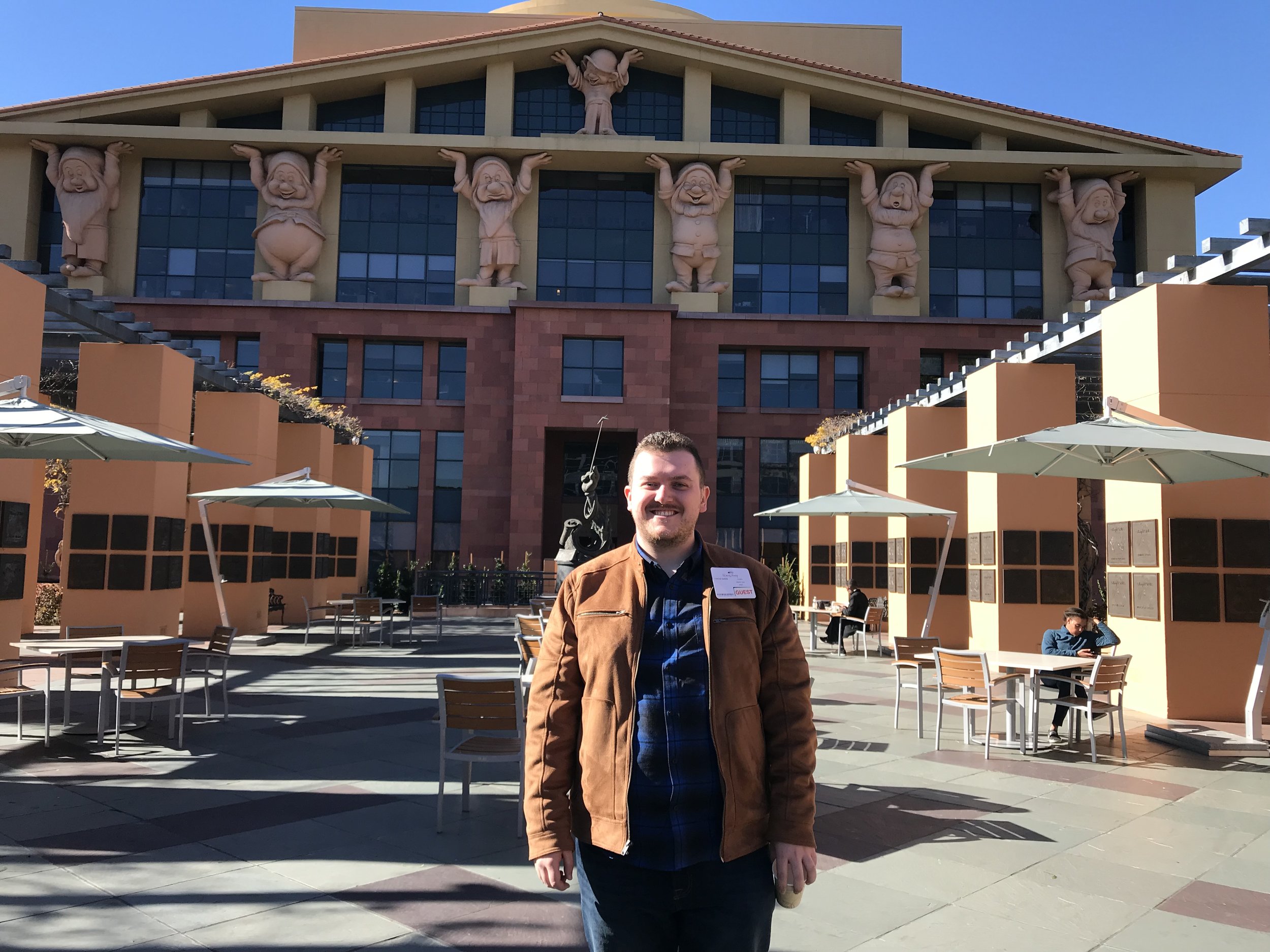 WHAT IS THE DREAM?
My love for animation really began, I believe, when I was five/six years old – back then I remember day-dreaming the entire sequence (frame for frame) of the Bare Necessities from Walt Disney's The Jungle Book, on my primary school ABC board… true story, it's one memory I love and still brings a smile to my face… school in those days could be pretty boring, especially growing up with a hearing loss (but we don't need to get into all that). As a kid growing up in the 90s, the world of cartoons was real – to me the characters I grew up with, Bugs Bunny, Mickey Mouse, and Tom & Jerry, etc. were alive and lived in such a world as "Toontown" from the movie, Who Framed Roger Rabbit. Three trips to Disney World, in Florida, influenced and set-in-stone my dreams for becoming an animator; and so… almost 24 years in the making (give or take), I have chased my dreams to work in animation. For some, childish imaginations grow up, but for me, I don't feel like I will fully grow up from watching cartoons - and the characters are still alive to me to this day.
These memories inspire my ambition in life, to breathe life into inanimate rigs and drawings, to create a reaction in the audience – to make them roll with laughter, cry and love the characters wholeheartedly. What interests me as an animator is the impact the work that I do will affect upon people and give them a sense of magic, implanted into every audience member (young or old). Nothing else in the world beats creating a good story, with sincere characters that inspire and are so relatable to everyone that they feel like friends; characters with a voice and opinion, and who change all of us for the better, to see more clearly. Animation is the ultimate art form, and there is nothing I would rather be doing with my life.
WHERE AM I NOW?
In 2017, I was awarded the Sixteen South's Dedication to the Craft of Animation Award, for "Outstanding Academic Achievement"; and in 2014, I was awarded the Dean's Award for Outstanding Academic Year.
Right now, I am working as a CG Generalist/Compositor on a Nickelodeon distributed children and preschool TV series called Becca's Bunch, coming soon in 2018. Production for the series is based in Belfast with JAM Media.
Recent graduate of Ulster University in 2017, with a Bachelor's Degree in BDes Hons Animation. I have since leaving university decided to take up further education to develop my career as an character animator, at Animschool. I'm currently working on these online course studies during my spare time, after work.
Previous work experience includes small independant indie-games and commercial productions such as, Encycle Studios and Outsider Games, as assistant designer and animator.
WHAT CAN I DO FOR YOU?
At university, I have been trained as a Generalist CG Artist and I aim to work as a Specialist CG Character Animator for film or TV animation; I work with professional softwares such as, Maya, ZBrush, Photoshop, After Effects and Premiere Pro, etc., aiming to please not just what the audience needs to see with a story, but also convey the director's vision as clearly and on point as I possibly can. The greatest approval, I find, is receiving a reaction to the work that allows others to portray their own emotions and experiences into the position of the character, and each time this challenges me to go one step further. How I work best is by communicating with the director and listening to what they have to say, and what they desire to do with the story they are telling. From there, I take that creative expression and portray their vision into the work with sincerity.
I am always interested in a challenge to find new ways of telling a story, or to take my animation skills to the next level in a completely different direction… whatever that maybe; one aspect which fascinates me right now is new innovations of VR and AR short film content and the effect this has, evolving new ways in which we are told a story visually. One question that makes me curious is: where is the industry going next? Whatever that is I want to be ready for it.
THAT'S ALL FOLKS!
Work Experience
JAM MEDIA, BELFAST, nORTHERN iRELAND (UK) july 2017 - Present
CG GENERALIST/COMPOSITOR
Currently working on a Nickelodeon distributed children and preschool TV series, Becca's Bunch, coming soon in 2018.
Responsibilities include scene prep, 3D tracking, and CG modelling assets and character retopology
Encycle sTUDIOS, BELFAST, NORTHERN Ireland (uk) January 2016 - may 2016
PLACEMENT (WORK EXPERIENCE)
Production Designer and Animator for unannounced projects
Runner for commercial production Moy Park Chicken, assisting the crew on a live set located at Acorn Studios, Belfast.
Outsider games, belfast, northern Ireland (uk) September 2015 - november 2015
PLACEMENT (WORK EXPERIENCE)
Performed user testing and operating systems
Resident artist and animator
In-game animation and designer for Wailing Heights, a RPG mystery-solving game - now available on Steam.
Education
animschool, Los angeles, california October 2017 - present
ANIMATION COURSE (ONLINE SCHOOL)
ANTHEA KEROU (DISNEY, BLUE SKY, and SONY PICTURES ANIMATION) - INTRODUCTION TO ANIMATION (FALL 2017)

LOUAYE MOULAYESS (BLUE SKY STUDIOS) - ANIMATING CHARACTERS (SPRING 2018)

VALERIE SCHEIBER (RHYTHM & HUES, BLUE SKY, and SONY PICTURES IMAGEWORKS) - BODY MECHANICS (SUMMER 2018)
ULSTER UNIVERSITY, BELFAST, NORTHERN IRELAND (UK) SEPTEMBER 2013 - JUNE 2017
BACHELOR'S DEGREE in BDES HONS ANIMATION
Academic Awards:
SIXTEEN SOUTH DEDICATION TO THE CRAFT OF ANIMATION AWARD 2017 FOR "OUTSTANDING ACADEMIC ACHIEVEMENT"
DEAN'S AWARD 2014 FOR "OUTSTANDING ACADEMIC YEAR"
Skills
SOFTWARE:
AUTODESK MAYA versions 2015 - 2018 (5 YEARS EXPERIENCE, WORKING in ANIMATION, MODELLING, RENDERING, SCENE PREP, PREVIZ, LIGHTING & TEXTURING)
ADOBE SUITES including PHOTOSHOP, PREMIERE PRO, AFTER EFFECTS, AND ILLUSTRATOR (6/7 YEARS EXPERIENCE)
PIXEL FARM'S PFTRACKER (6 MONTHS EXPERIENCE)
PIXOLOGIC ZBRUSH (2 YEARS EXPERIENCE)
Featured Art
The following is a collection of featured animation, storyboard and gallery portfolio material. Simply click the work you would like to view.
Tyrone Owens
CG Generalist and Animator
Belfast, Northern Ireland, Co. Antrim, UK
Email: tyroneowens230@gmail.com
Web Address: www.tyroneowens.com